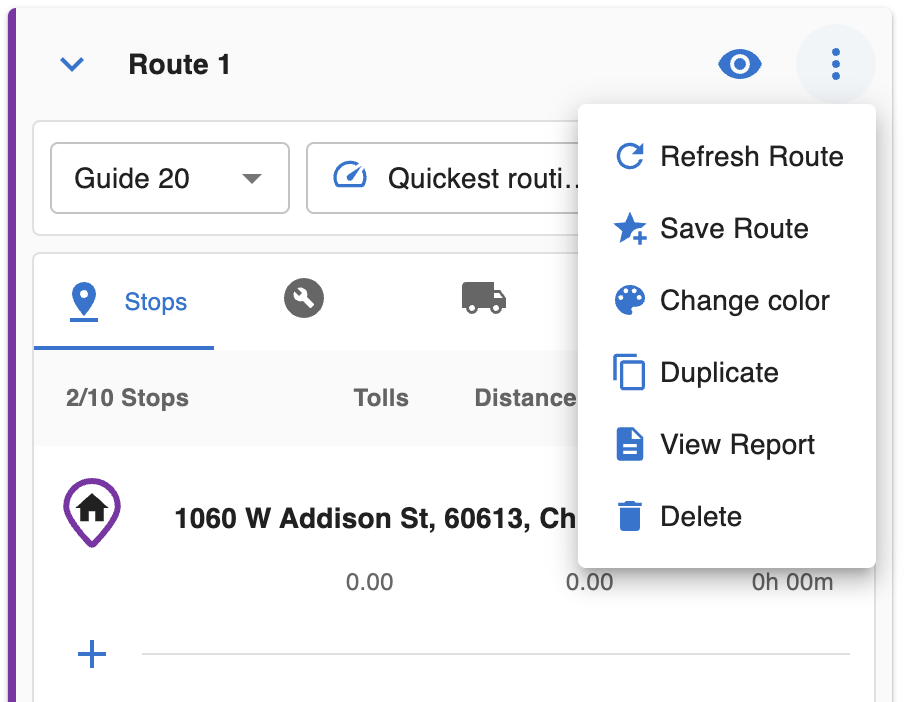 Refresh Route
Selecting 'Refresh Route' will recalculate the route based upon the most updated data available. This option will only return different results if you are using Guide 20, Quickest routing (which accounts for traffic data at the selected departure time).
Save Route
Selecting 'Save Route' allows you to add the route to your favorites, and give it a custom name for easy access in the future.
Change Color
You can select from 10 colors to visually differentiate between the routes on the map. The selected color will also be associated with the route should you choose to save it to your favorites.

Duplicate
Selecting "Duplicate" will generate a copy of the route directly below the original in the route list, with the title "[ROUTE NAME] (1)." This option can be useful if you wish to compare the same combination of stops, with different guides, routing types, or route configuration settings.
View Report
Selecting "View Report" will open the route report in a new tab.
Delete
Selecting "Delete" will delete the route from the list. This does not delete the route from your favorites if you have previously saved it.